We have proudly been serving Burnaby to Richmond, Surrey to Victoria since 1999! Our goal is to source products for you to help produce amazing results.
We are recognized as one of North America's leaders in the art and science of getting your company noticed. Let our team of experts be your guide in selecting the perfect promotional product this time and every time.
We hope you'll give us a try. The opportunity to quote is all we ask! Why not get a competitive price from a supplier who's been proudly serving your market for over a decade! We will be sure to get back to you as quick as we can!
Your quote requests and inquiries will be handled by our promotional experts located right here in North America, who are dedicated to providing the right product, at the right price for the right promotion of your brand. If you would rather you can always call us toll free and we'd be happy to talk you through the best options for you.
Need something in a rush? No problem! With over 3000 rush products available that are guaranteed to ship next day, with your logo on them, we can take care of you. From USB drives to Portfolios, from Travel items to pens, we've got you covered.
Effective purchasing of promotional items needs to take into account important factors such as seasonality, fashion, and the latest trends. If this sounds like too much work, we can take care of all of this for you. We know what's hot and what's not, what next year's colors are going to be, and what was hot last year. Some of today's hottest trends are:
1. Eco friendly promotional items. With the increased focus on buying local, global warming, and other recent economic factors, making sure the products you distribute do not harm the environment is key to many organizations. People are becoming more aware of the degrading environmental situation we are in, and you can help them do their part. Whether you are a major supporter or not, there is no denying you do have an impact on the environment and can help your business with the times by choosing an eco-friendly promotional alternative.
2. Seasonal colors, and up-to date styles How many times have you given out that same tired polo shirt to the same people at that same golf tournament. Get with the times and this year's style by calculating exactly how much product you will need. While you are there, make sure you get women's styles and cuts for women, and men's styles and cuts for men. Unisex styles are no longer acceptable, and no one ever wore them anyways. If sizing and gender breakdown are too complicated, go with this year's fashionable tote bag, or a pen set. Something that everyone can use.
3. Functional promotional items that have the latest technology built right in There are amazing promotional solutions on the market today. Basic promotional ideas such as simple ceramic mugs that have logos that change color when hot or cold beverages are poured in, or utilizing "super sticky" post-it notes for those situations when the normal adhesive just isn't strong enough. Regular products with a twist can make your promotion stand out from the crowd.
With over a decade of promotional experience and clients who make up a large part of the "who's who" list in the Fortune 1000, we can make things easier for you. The process of buying promotional products does not have to be difficult or time consuming.
Here is a list of our most popular promotional items for the Vancouver market:
1. Pens – The number 1 category by far in the promotional field, over 35% of all promotional items given out are writing instruments. The form, function, and budget can be suited to any price point but bear in mind, everybody uses pens!
2. T-Shirts - Everybody loves a free T-Shirt, but don't forget that you need to stock both men's and ladies versions! White, Navy Blue and Black are always safe buys, but keep in mind your unique brand promise and don't be afraid to stand out from the crowd!
3. Padfolio/Portfolio - Because carrying around note pads and pens simply needs a good organizer!
4. Mouse pad – Everyone in the business world has a computer, and thus, a mouse pad. Keep this in mind when selecting your mouse pad giveaway that there has to be something unique or better about it in order for them to throw their existing one away!
5. Mugs and water bottles - A must for any business. Water and coffee are the worlds first to most popular drinks! Give them something stylish to hold their favorite beverage in!
6. Key Chains - Because everybody has at least one set of keys that they carry around and this is a good place to keep your brand in front of them!
7. Tote bags - Not only do you need Tote bags for your trade shows, but a Tote bag is an excellent vehicle to get your brand out in the streets and help your end users with their grocery bills. No more paying extra for plastic bags, now they will become brand ambassadors for you!
8. Caps, Hats, and Toques - Everybody wears hats for outdoor and indoor activities, and lets not forget the snow! Keeping your client's heads warm will help them think about you on a daily basis!
Thanks for taking the time to review our site and we hope you find a great idea or two! We want you to know at some point in the past EVERY SINGLE CLIENT was in the exact same position you are in today: They used to work with another promotional company. Unfortunately for one reason or another that other company disappointed them. So they decided to contact us. We Guarantee our orders, we Guarantee our order quality, and we have an additional 5% Free Goods Guarantee. They have all been loyal clients ever since.
Featured Item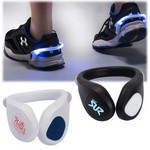 LED Safety Light
PVC and silicone clip lights up for visibility after dark. Two CR2032 batteries included. One size fits most, fitting securely on the back of shoes. Easy push button on/off offering flashing or steady...